OAKVILLE™ X4 The impressive Oakville™ Gas Fireplace Insert has an exclusive dual burner split-flow system that results in a firebox filled with a stunning triple flame pattern and allows the option of independently operating the front and rear burners. A superior heat circulating blower comes included with this model and when paired with the Oakville™'s airflow improvement directional baffles generate maximum blower efficiency. A stunning triple flame and massive viewing area make this fireplace insert a perfect choice for larger rooms where a passion for luxury is evident. The perfect solution for replacing and updating an inefficient old masonry setting. 40,000 btus GDIX4. Chimney kit not included. Installation available

OAKVILLE™ 3 The Napoleon Oakville™ Gas Fireplace Insert offers many standard features including a premium SPLIT OAK log set and "H" style burner that produces a full firebox of flames. The clean face design, flush finish, accessories, and endless design opportunities make this perfect for smaller living spaces. The Oakville™ is great for homeowners who want the cost-saving benefits of Zone Heating (heating the rooms you use the most) plus the benefit of replacing an old drafty masonry fireplace with an efficient heating source. Designed for ease of installation, this fireplace insert features designer accessories that provide thousands of style combinations making this unit the aesthetic choice for any home. High-level performance and reliability come standard. 24,000 btus GDIX3
OAKVILLE™ 3 GLASS A sparkling, modern fireplace with glass ember bed will add much-needed luxe to your favorite spaces when you install an Oakville™ Gas Insert with Glass Ember Bed. The exclusive NIGHT LIGHT™ and MIRRO-FLAME Porcelain Reflective Radiant Panels provide the illusion of a deep firebox while creating a warm and relaxing atmosphere. This fireplace insert is the perfect solution for an economical heating source complemented with the modern elegance of a sparkling Topaz CRYSTALINE™ ember bed. A multitude of decorative designer accessories are also available to match any room in your home. Heating smarter and saving energy doesn't have to mean compromising great design. 24,000 btus GDIG3N
This compact gas fireplace insert provides a strong combination of radiant and convective heat with a maximum viewing area. This high-efficiency 31,000 btus gas fireplace insert includes electronic ignition and a variable speed blower. Make your gas insert LRI4E Gas Insert Key Features Realistic logs with beautiful flames and glowing ceramic ember bed Operates on Natural Gas or Propane Heat radiating ceramic glass with safety screen Electronic Ignition with SureFire switch Proflame I remote control system Variable speed blower for max heat distribution Backed by the industry's most comprehensive Limited Lifetime Warranty. $4016 LRI4E
Regency® Atmosphere Gi29 Medium Gas Insert
Gi29LE Key Features:
NEW innovative infusion 31,500 btu burner that creates the most realistic flame package
Invisimesh safety screen for a clear view of the fire
Multiple faceplate styles available in various finishes
Flush installation options
Electronic Ignition System
Proflame 2 Remote Control
Variable Speed Blower
Ember Bed Lighting
Ceramic glass
Large 38,000 btus Contemporary Gas Inserts The Regency Horizon series of gas inserts is designed to add contemporary style to old, innefficient fireplaces by allowing homeowners to place a high-efficiency gas insert into their existing fireplace. Enjoy more warmth from your gas insert in the furthest reaches of the room with a built in blower. You can choose from a wide range of accessories and fireplace media including stones, crystals, and logs allowing you to customize your contemporary gas insert to match your particular style. The HRI6E features direct vent technology plus an advanced remote control and electronic ignition system that includes a battery backup so your gas fireplace insert will continue to work even during a power outage. HRI6E
Our most popular size of gas inserts, the 38,000 btus LRI6E typically fits up to 95% of existing masonry wood fireplaces. By adding a traditional gas insert you can seal your old drafty and inefficient wood fireplace in favor of a high-efficiency gas insert. LRI6E Gas Insert Key Features Realistic logs with beautiful flames and glowing ceramic ember bed Operates on Natural Gas or Propane Heat radiating ceramic glass with safety screen Electronic Ignition with SureFire switch Proflame I remote control system Variable speed blower for max heat distribution Backed by the industry's most comprehensive Limited Lifetime Warranty. LRI6E.
Specifications Height 20.625 in Width 32.25 in Depth 14.5 in Weight 140 lb Flue exit options Top Flue outlet height, center top 20.00 Heating capacity up to 2000 sqft Efficiency (Energuide) 69.49(NG) 69.49(LP) Min/Max Heat Input (LP) 14300 - 28000. GI 450 base price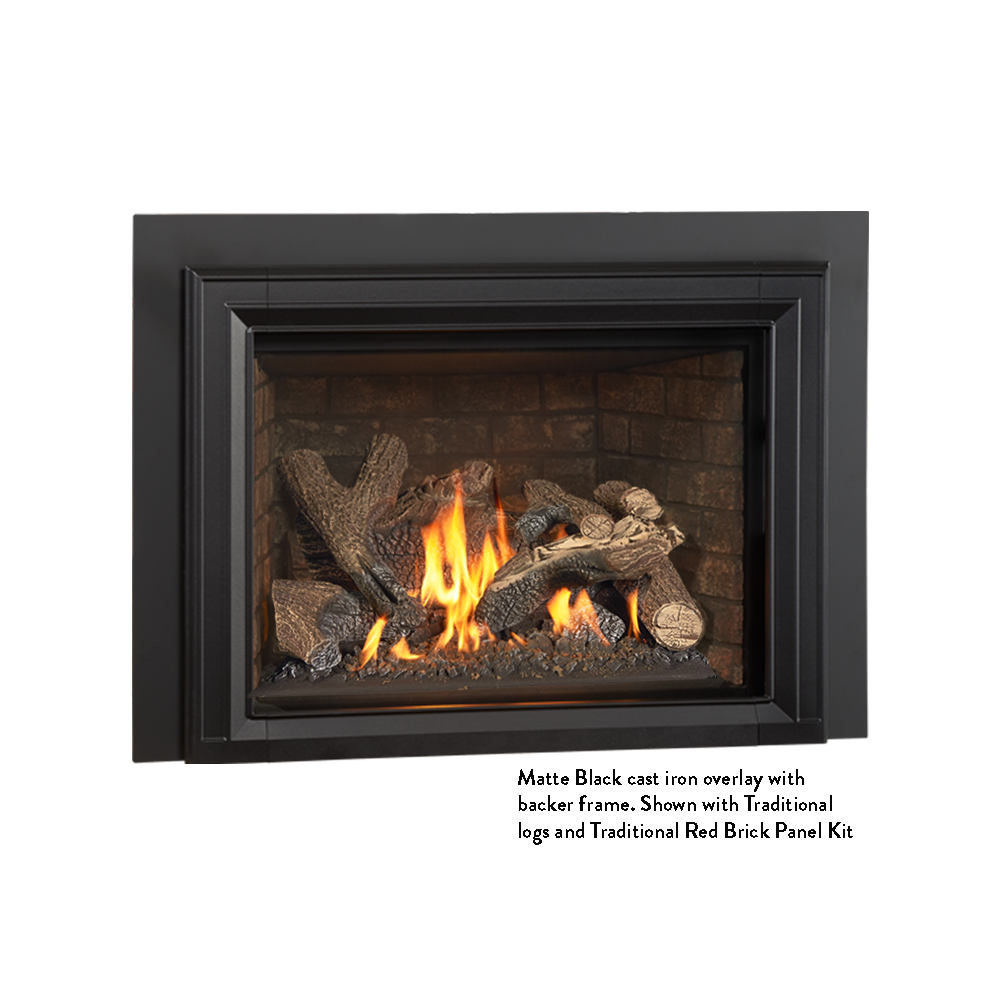 Specifications Height 23.625 in Width 33.25 in Depth 16.375 in Weight 172 lb Flue exit options Top Flue outlet height, center top 23.50 Heating capacity up to 2200 sqft Efficiency (Energuide) 62.29 (NG) 63.67 (LP) Min/Max Heat Input (LP) 8700 - 40000 Min/Max Heat Input (NG) 10000 - 40000. GI635 base price
Specifications Height 23.75 in Width 33.5 in Depth 16 in Weight 210 lb Flue outlet 3 in Heating capacity up to 2200 sqft Efficiency (Energuide) DV (NG) 63.03% / (LP) 62.56% MV (NG) 64.55% / (LP) 64.57% Min/Max Heat Input (LP) 20,000 - 36,500 Min/Max Heat Input (NG) 21,000 - 38,000. GI645 base price
A Direct-Vent Fireplace Insert turns your existing wood-burning fireplace into an efficient gas-fired heat source. Direct-Vent Fireplace Inserts are classified as zone heating appliances. Zone heating is inherently more efficient than your existing wood-burning fireplace or your central furnace. Our Innsbrook large Direct-Vent insert inncludes liner and hand-painted ceramic fiber logs, nestled atop the variable flame height burner, to create an exceptionally attractive traditional fireplace. With an input of 28,500 Btus, the Direct-Vent insert's unique Slope Glaze Burner produces natural flickering flames that dance and delight – warming your heart as it warms your soles. DVC28IN31N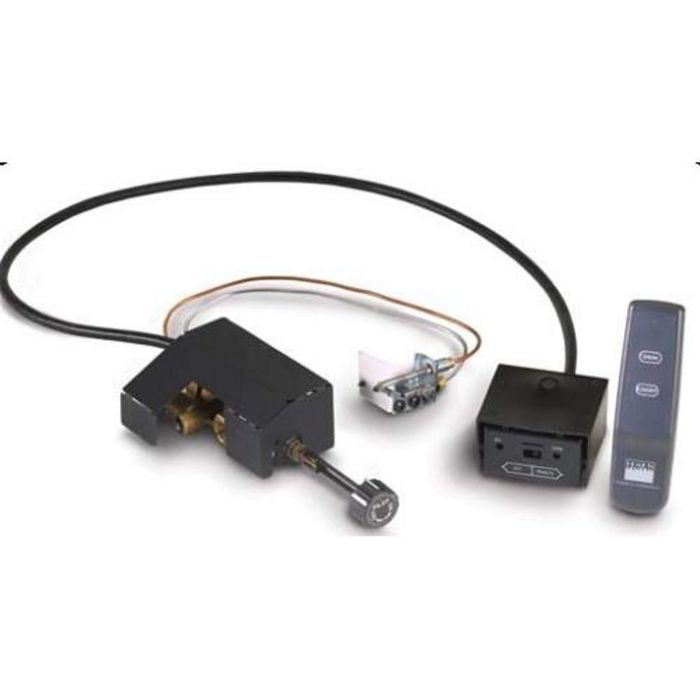 parts/service
Big Selection of Fireplace Parts - Pilots, Valves, Remotes & Accessories. We have Parts for most Brands. Napolean, White Mountain, Heat N Glo, Heatilator, Lennox, Superior, Astria, Montigo, Majestic, Monessen , Vemont and others. In Home Service available Mon -Fri. 248-366-8666
A Direct-Vent Fireplace Insert turns your existing wood-burning fireplace into an efficient gas-fired heat source. Direct-Vent Fireplace Inserts are classified as zone heating appliances. Zone heating is inherently more efficient than your existing wood-burning fireplace or your central furnace. Rushmore 35" fireplace inserts feature the TruFlame system – a combination of technology and aesthetics to create realistic flames and a glowing ember bed, mimicking a natural wood fire. Available in two sizes, 30 and 35, these inserts turn your wood-burning fireplace into an attractive and efficient focal point. The multifunction remote operates as a conventional thermostat, a Smart Thermostat – which modulates flame height as the room reaches the desired temperature, or as a manual control. The remote also operates the included accent light and blower. 35,000 btus DVCT35CBN95N
Innsbrook Vent-Free inserts feature Banded Brick Liners, with hand-painted ceramic fiber logs nestled atop the variable-flame burner, to create an exceptionally attractive traditional fireplace. The unique Slope Glaze Burner produces natural flickering flames. Every Innsbrook Vent-Free Insert also includes a blower and fine mesh barrier screen. 28,000 btusVFPC28IN33N